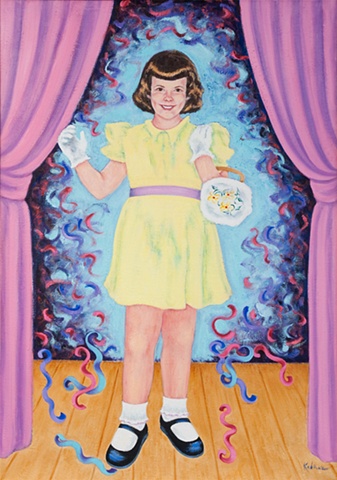 All of my work is figurative and has psychological content. I use my own experience to comment on interpersonal issues and universal themes. Another artist has written that "many of your paintings lean towards the imaginary and fanciful while having the stark but memory-like feeling of reality."
Four of the paintings are part of an "Alzheimer's Series." With this series I hope to depict two aspects of this devastating disease: how Alzheimer's victims feel when they become aware that their mental functioning is changing beyond their control; and how caregivers feel as they witness the deterioration of loved ones and as they cope with the almost overwhelming burden of care.
A larger group of paintings is an ongoing "Fantasy Series" begun in the 1980s. This work too explores emotions and states of being, often with humor, sometimes with images that border on the surreal. For example, in the painting called "Therapy," the therapeutic process is seen as a magic carpet ride.
My paintings tend to elicit strong feelings. Viewers often read their own experiences into the paintings. Like Rorschach blots and dreams, the paintings contain multiple meanings